St. Paul's Lutheran Preschool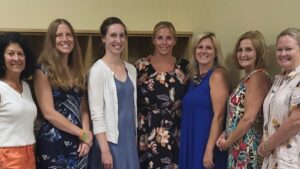 Pictured are staff for 2023-2024 school year!
Rejoice!  The Preschool welcomed the sounds of children's laughter and teacher's voices into the hallways and classrooms for the 2023-2024 school year!
Registration fo

r 2023-2024 is OPEN
Registration for the 2023-2024school year is open!  Please visit St. Paul's Preschool's new webpage to enroll your child/children, http://stpaulspreschoolyork.com or contact (717-854-1996) or email the preschool at:   director@stpaulspreschoolyork.com
Health and safety plans are in place for everyone in St. Paul's Preschool!

St. Paul's Lutheran Preschool was established in 1964 as a kindergarten.  We will be celebrating our 60th anniversary in 2024.  When kindergarten became part of public school education, the ministry shifted to focus on early childhood development in the form of a preschool.  We have classes to accommodate children 2, 3, and 4 year olds.  One of our goals is to Create Lifelong Learners.  The Preschool has adopted a new curriculum with refreshing new ideas to use with the children beginning in the 2022-2023 school year.
St. Paul's Lutheran Preschool is committed to the development of the whole child:  social, emotionally, physically, cognitively and spiritually.  We recognize that everyone is a unique child of God and that each grows and learns differently.  Therefore, we meet each child where he or she is and help to nurture and challenge them as they grow.  We believe that children learn best through active exploration and play.  By providing children with opportunities to pretend, wonder, build, create, sing, move, share, and engage with books, we hope to instill in them the love of school and learning.
At St. Paul's Lutheran Preschool, we work to meet your child where he or she is and to foster his or her social, academic and creative development.  We work to create lifelong learners who spend their lives as explorers-curious about, engaged in, and amazed by the world around them.
The preschool is continuing to enjoy and benefiting from our renovated classrooms.  Each classroom is equipped for the safety and educational instruction of our students and preparing the students for Kindergarten.
We continue to discover the connections between early childhood development and life long learning. As we do so, we take time to reflect upon our program that has been building and growing for 58 years. We are blessed to have such a dedicated and caring staff. We are blessed too in that we are able to minister in the name of Christ Jesus to the children. Each week the children in the 3 and 4 year old classes participate in chapel services. These times of prayer, praise and scripture reading become an important time of spiritual formation for the children. For those children who are being raised in a Christian family, we provide reinforcement and support for our faith tradition. For those children who do not have any religious background, we provide an arena for them to encounter Christ Jesus through the reading of scripture, songs and prayer.   Christian education should always be a priority in our life together.
The preschool provides a vibrant addition to the congregation's ministry in York and is affiliated with St. Paul's Lutheran Church.