In 2010 we entered into a joint gardening project with our neighbors at the Unitarian Universalist Congregation of York. The garden is located on the property of the U.U. Church just south of St. Paul's on George Street.  Working in God's soil with compatible people is a joy. The garden is "green" in every sense of the word; care is taken with the plantings, choices of plants, locale and weather considerations. We have been blessed with an abundance of wonderful produce since 2010 for St. Paul's Food Pantry.
The pleasure of working together has reaped a harvest of food and friendship for the community.  The St. Paul's gardeners are bringing fresh produce for the Food Pantry to distribute on Tuesday mornings.   Most of us have the luxury of purchasing fresh produce on a regular basis but there are those not so fortunate.  Thanks to the work of the community gardeners those who come once a month for the Tuesday food distribution will receive locally grown produce from our garden.  If you have not visited the garden, please stop by and check it out.  Workers gather at a variety of times to carry out a variety of tasks, weeding, harvesting, and replanting on a 20X60 food plot that produces the greatest amount of produce.  Our client's are thrilled with the fresh fruit and vegetables in season.
Thanks to all of our gardeners!  Your hard work is appreciated!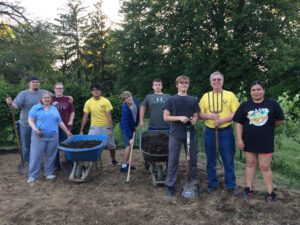 Members of St. Paul's Scout Troup 19