The work of the global church is carried out in many ways. One of our greatest partners is LWR, Lutheran World Relief. http://www.lwr.org/. This National organization is headquartered in Washington, D.C.  Lutheran World Relief last year reached 7.8 million people in 35 countries and implemented 189 project.
SERRV Holiday Sale, Sunday, November 13, 2016
The Social Ministry Committee has arranged for a SERRV holiday sale at St. Paul's.  SERRV is part of Lutheran World Relief and consists of artisans from developing nations who sell their creations through LWR.  This arrangement enables artisans to become self-sufficient and to support their families.  There are a variety of items included for this year's event.  They will be available for sale on Sunday, November 13, 2016, during the Second Sunday Sandwich fellowship time in the Fellowship Hall following the 10:30 a.m. liturgy.  There will also be shopping times on Monday and Tuesday mornings in the chapel on November 14 and 15 from 9:00-10:00 a.m.  We have not held a SERRV sale for 6 years.  Plan on finding some unique gift/gifts for the up-coming holidays.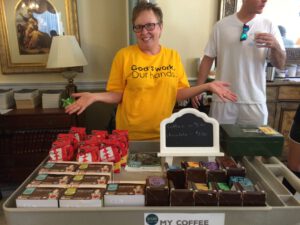 Fair Trade Coffee and Chocolate – St. Paul's is partnering with LWR to offer Fair Trade coffee and chocolate to the congregation.  Please consider buying for your personal use, for your place of business if you provide coffee for your employees, or for gifts.  Not only will you be supporting farming families and their communities, you will be putting your faith into action.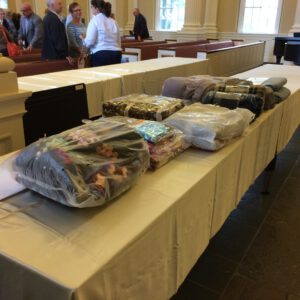 When is a blanket not a blanket?  –  The Social Ministry Committee recently had a blanket drive for LWR.  We generally think of blankets as providing warmth.  And, of course, they do.  But the blankets sent around the world by LWR provide so much more than warmth.  Here are some of the ways those blankets are used:  protection from the sun, a table for meals, a space to define a marketplace for selling produce, a backpack for carrying belongings, a privacy screen in the home, a gurney for transporting someone injured or sick, a safe play space for toddlers.  LWR asks for blankets about twin size (no larger), no comforters (too hard to clean), and darker colors are preferred.  There should be no political or religious symbols on the blankets.
Malaria Campaign – Malaria has been a worldwide epidemic for thousands of years; recent developments have made it possible to stop deaths from this disease.  St. Paul's families are a part of the movement to help contain this deadly disease.
St. Paul's Benevolence Committee started a Malaria Campaign with $2,500.00.  Mosquito's made by our youth were sold and money was donated to help families stay malaria free.  The total amount St. Paul's has raised to support the Malaria Campaign is $6,413.55.
St. Paul's participated in the LWR Malaria Campaign a few years ago by collecting donations for 147 specially treated mosquito nets which  LWR purchased and sent to Africa to eradicate childhood deaths from malaria.
We continue to collect items needed for kits being sent to Nepal.  We assemble them and send them on to Lutheran World Relief.  Items needed in a kit are:  bath towels, dark color full size; metal nail clippers, file optional; full size individually wrapped bar of soap; adult size tooth brush; large comb.
LWR in Urgent Need of School Kits – The Social Ministry committee has been made aware that Lutheran World Relief is in dire need of School Kits.  Due to conflicts around the world that have displaced families, LWR has depleted much of its inventory.  For example, they recently distributed 6,350 School Kits to families in Syria affected by the ongoing conflict.  We are told that these school supplies mean the difference between getting an education or not to the children who receive them.  Public school is usually free, but in the places where LWR works, even a few required supplies, like pens and paper, may be more than many families can afford.  And when parents can only afford to send one child to school, girls rarely get priority, though it has been shown that the education level of mothers has the biggest impact on development.
The Social Ministry Committee and other volunteers are busy sewing and constructing the backpacks that will hold the needed school supplies.  We plan to have them available for the month of August when many school supplies are on sale.  We ask that you take one or more of the bags home and fill them with the needed school supplies, then bring them back to St. Paul's by the beginning of September.  You may also place money in a special envelope marked "LWR" for us to buy the supplies.  A list of necessary supplies is included here for those who wish to get a head start in collecting them:  four 70-sheet notebooks of wide or college-ruled paper around 8″ X 10 1/2″, plain colored covers, one-centimeter ruler, or a ruler with centimeters on one side and inches on the other, one pencil sharpener, one blunt safety scissors, five unsharpened #2 pencils with erasers, five black or blue ballpoint pens (no gel ink), one box of 16 or 24 crayons, one 2 1/2″ eraser.
LWR asks that donated items be free from any political, patriotic, military, or religious symbols or designs.  The Social Ministry Committee thanks you for your participation and generosity in meeting this dire need.  More importantly, we pray for the children and families whose lives will be touched.
Members Assembling School Kits
Each year we collect for School kits, Health kits, and Sewing kits.
"For all who are led by the Spirit of God are children of God."  Romans 8:14