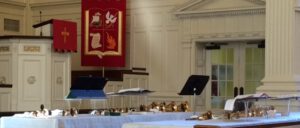 Handbell Choir – Emily Reep – Click for Biography

The Adult Bell Choir consists of members ages 12 and up. The choir rehearses on Thursday evenings from 6:30-7:30 p.m. in the church nave.  Rehearsals begin in September and go through mid May 2018.  There are no practices during the summer.  We currently have 16 members ringing five octaves of handbells and four octaves of handchimes. The choir usually plays for services once per month and often accompanies psalms, hymns, and vocal anthems. Members enjoy utilizing many different bell techniques and playing pieces which incorporate various instruments.
We will have several openings to the choir in the fall.  Some of our faithful ringers have gone away to college, moved for new jobs, or have other commitments on our rehearsal nights.  If you are interested in joining or have questions regarding the bell choir, please contact Emily Reep.
Bell Choir performing Antiphonal Fanfare